New Year's Resolutions….I've never been big on them because I think they carry too much pressure. What I can get behind is some smart goals that I can work on throughout the year. Last year, I wanted to simply move more. I'm closing in on the big 4-0 so making sure I keep my body moving is more important than ever these days. So I set my goal of 150+ Burn Boot Camps. The one thing I did last year to help me actually HIT that goal was this habit tracker…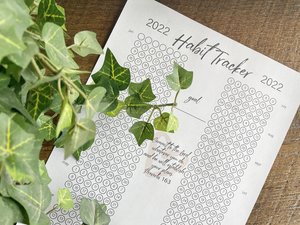 I printed this baby out and stuck it on my fridge. It held me accountable ALL year and I'm proud to say this was a goal I CRUSHED in 2021. I am setting a similar goal for 2022 and you better believe this habit tracker will be on my fridge again this year.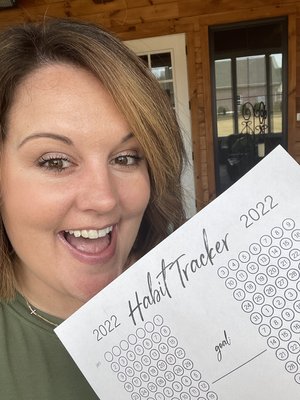 Remember that your habit tracker doesn't have to be for workouts. I've listed some simple habits that can get you kickstarted on 2022. Just make sure to make them SMART goals (specific, measurable, achievable, relevant, time-bound) so you can better track your progress. I'd love to hear your ideas in the comments too!
Drink a certain amount of water each day.

Spend time in your Bible and prayer each morning. (I have some great resources here if you are interested!)

Limit your time on social media.

Floss your teeth daily.

Read a book in the evening instead of watching TV.

Wake up earlier.
The list could go on and on. Keep it simple and give yourself grace! I am sharing this habit tracker with you in hopes you crush some goals this year too.
In case you're interested, here are my 2022 goals. I did not share my specifics for each goal and I don't track them all with a habit tracker, but I do take regular (monthly) assessment and allow myself to be flexible and adjust as needed. There are always a few goals I don't hit. I consider that a success too. I would be dreaming too small if I crushed every goal I set.
Give Generously

No social media before I spend time in the Word/prayer

Grow HartDesignCo

Read 36+ books

150+ Burn Boot Camp/ Peloton classes

Get outside at least twice a week

Meal plan on Sundays

 
I hope this helps you and remember it doesn't take a new year to start some amazing goals. Have fun and have some grace for yourself too! Here's to being a little better each day!