Oh how I miss the summer breaks from my younger school days. My parents both worked but I was fortunate to live in a multigenerational household growing up and have a built in buddy with an older brother, so we were always up for something fun. That being said, you bet your bottom dollar each morning we woke up in the summer (after we lazily slept in), we would come downstairs to a chore list on a whiteboard hung in our kitchen. The deal was we could have loads of fun AFTER we did our daily chores. I dreaded the chores, but funny how as an adult you look back and are so thankful that your parents taught you responsibility in the early years.
So my hope today is that this Summer Bucket List provides you and your family with hours of Summer fun (after you've done your chores, of course!) and these ideas create some margin and much needed space for special memories. Some of these ideas can be done by kids on their own and some need the entire family's help, but either way, they are sure to 1) be fun, 2) beat the summer boredom, and 3) teach something valuable. Enjoy!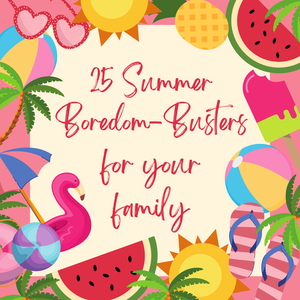 1) Block Party with neighbors. - This doesn't have to be anything fancy. Grab the grill and park it in the front yard and invite whoever walks along the sidewalk to join.
2) Spontaneous Weekend Road Trip
3) Make a Homemade Movie (iMovie) and involve the whole family.
4) Service Project
5) Outdoor Movie Night
7) Make Homemade Ice Cream. Invite a few friends over for a porch party and enjoy your cold creations.
8) Pick Fresh Strawberries. Share some with a neighbor.
9) Make Jam or Jelly - I have fond memories of my brother and I visiting our great aunt and picking her plum tree to help her make jelly.
10) Lemonade Stand - This is such a fun way to teach kids entrepreneurship!
11) Draw something beautiful with sidewalk chalk in a neighbor's driveway. Such a fun way to brighten up someone else's day.
12) Tie Dye Shirts - My neighbors and I did this during the quarantine months and it was really fun!
13) Grow a garden and cook dinner with something you grow. Or if you prefer something a bit easier, plant some new houseplants. You can check out my 5 favorite houseplants here.
14) Family Game Night
15) Staycation - Be a tourist for a day or two in your own city. If you live in a small town, camp out in the backyard!
16) Flashlight Scavenger Hunt - grab some inexpensive flashlights and make a fun summer evening game with the kids.
17) Miniature Golf - My Granddad used to take my brother and I to play miniature golf every Tuesday in the summer. He would hand us a couple of tokens for the arcade and a few laps around the go-kart track and we had a blast!
18) Catch Lightning Bugs - Grab a mason jar from the kitchen and cover the top with a small piece of aluminum foil. Poke a few small holes (big enough the bugs can get some air, but that they cannot crawl out. Have a contest and see who can catch the most. At the end, release all the bugs at once and you have a beautiful end to your fun evening, not to mention some tired kids.
19) Dance in the Rain - What a glorious feeling! (see what I did there?) :)
20) Make a Blanket Fort - Another favorite of the Hart siblings.
21) Learn to make Friendship Bracelets
22) Visit your Local Library. (Here are some summer book recs for mom.)
23) Grab dinner from a Food Truck.
24) Late Night Stargazing (Check out these celestial events.)
25) Go to a Local Farmer's Market and grab ingredients to make a fresh farm to table meal. This is a fantastic way to support local farmers and teach your kids about nutrition and preparing a locally grown meal.
Grab your free printable of the list here and hang it up on the fridge. Here's to hoping you and yours have the best summer ever!